Elevate your home with stunning
Ready to design your dream pool? Our team comprises skilled pool landscape designers who can meticulously bring your vision to life, utilising extensive knowledge to construct beautiful spaces with high-quality materials. Get in touch to discuss your pool landscaping needs today.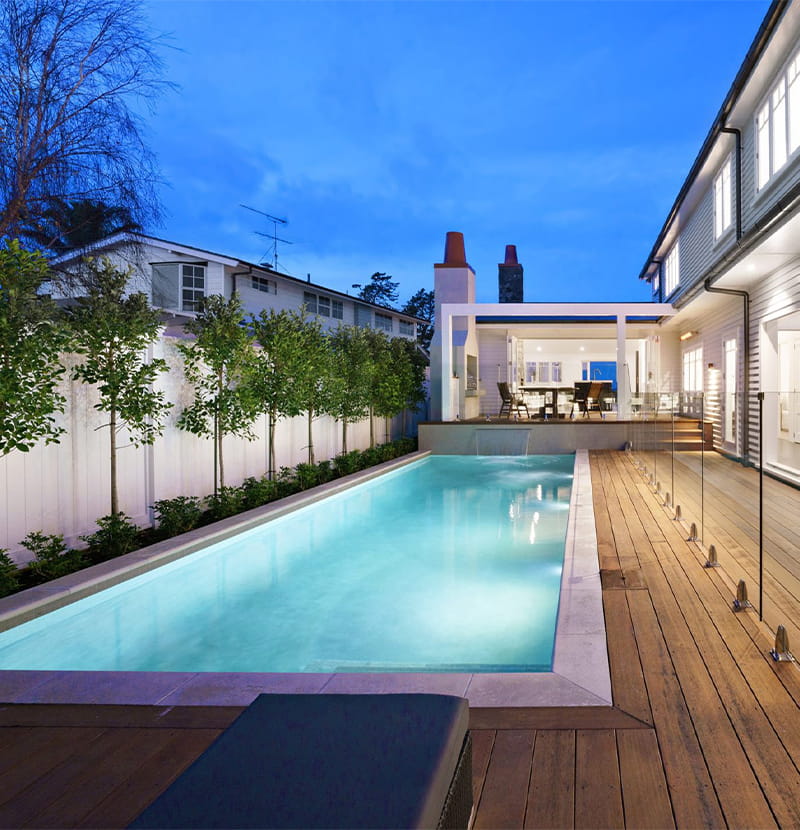 WE USE HIGH-QUALITY MATERIALS
Our pool landscapers use high-quality materials to ensure your pool area looks visually stunning, while lasting for many years. We use the following materials to bring your landscaping design to life and ensure it can withstand wear and tear:
Concrete or Pavers
Natural Stone
Wood
Gravel or Pebbles
Plants and Landscaping
Fencing and Safety Features
Talk to our designers about your desired materials or landscaping ideas, and we will help you make it a reality.
OUR POOL LANDSCAPING WORK
WHY CHOOSE WATCHMAN POOLS
WE USE HIGH-QUALITY MATERIALS
As a specialised pool-building company with more than 30 years in the industry, our team are incredibly experienced in building pool areas. Our expert landscapers will create the ideal surroundings to complement your pool.
CREATE CUSTOM OUTDOOR SPACES
Stand out from the rest of the neighbourhood by designing your dream outdoor space. Our team works with you to create an outdoor living space that you'll love to spend time in. Bring us your ideas, and we'll go from there.
QUALITY CRAFTSMANSHIP IN EVERY PROJECT
Pools are our passion. You can count on Watchman Pools to put quality craftmanship into every project we undertake. We will complete your project to the highest standard possible.
we can help make your dream pool a reality
FREQUENTLY ASKED QUESTIONS
Here are some of the common questions we get asked. If you have any specific questions please get in touch!
Why is professional pool landscape design important?
Our professional pool landscape designers possess the expertise to ensure the pool area's safety, functionality, and aesthetic appeal. They consider crucial elements like proper drainage, suitable materials, and effective layout to prevent erosion, flooding, or other issues.
A well-designed pool landscape seamlessly integrates the pool into its surroundings, enhancing the overall property's value and aesthetics to create an inviting and harmonious outdoor space. You can enjoy a stunning, enduring, and enjoyable pool landscape that meets your needs while adhering to best practices in landscaping and safety.
What does the pool landscape design process involve?
The pool landscape design process involves several key steps. It begins with a collaborative discussion about your preferences and objectives. We create a detailed plan considering safety, drainage, layout, and aesthetics. This plan may include the appropriate materials, plantings, and hardscape features.
Once the design is approved, construction and installation commence, with careful attention to quality. After completion, ongoing maintenance and care are essential to preserve its beauty and functionality.
What is the expected timeline for completing a pool landscape design project?
The expected timeline of your project will depend on your design and landscaping needs. We can complete small jobs, such as installing fencing, in a single day, while larger-scale landscaping jobs can take several weeks.
Talk to us about your project. During the planning stage, we will provide a detailed timeframe for your landscaping project.
Can you customise the landscape design to match my preferences and budget?
Yes! We work with our clients to create custom landscape designs that align with their budgets and needs.
Whatever you desire for your outdoor living space and pool area, talk to us about it. We will discuss the feasibility of your ideas and develop a design that aligns with your budget and needs.