Unlike traditional pools with a visible edge or lip that marks the waterline, infinity pools use an optical illusion to make the water appear to flow over the edge and into the horizon. These pools blend seamlessly into the surrounding landscape, and when viewed from the vantage point of the pool deck or an adjacent location, the water disappears into thin air, creating a breathtaking effect.
Discover the beauty of our infinity pool designs, perfectly blending luxury, serenity, and innovation. Talk to our concrete infinity pool builders to build your dream pool today!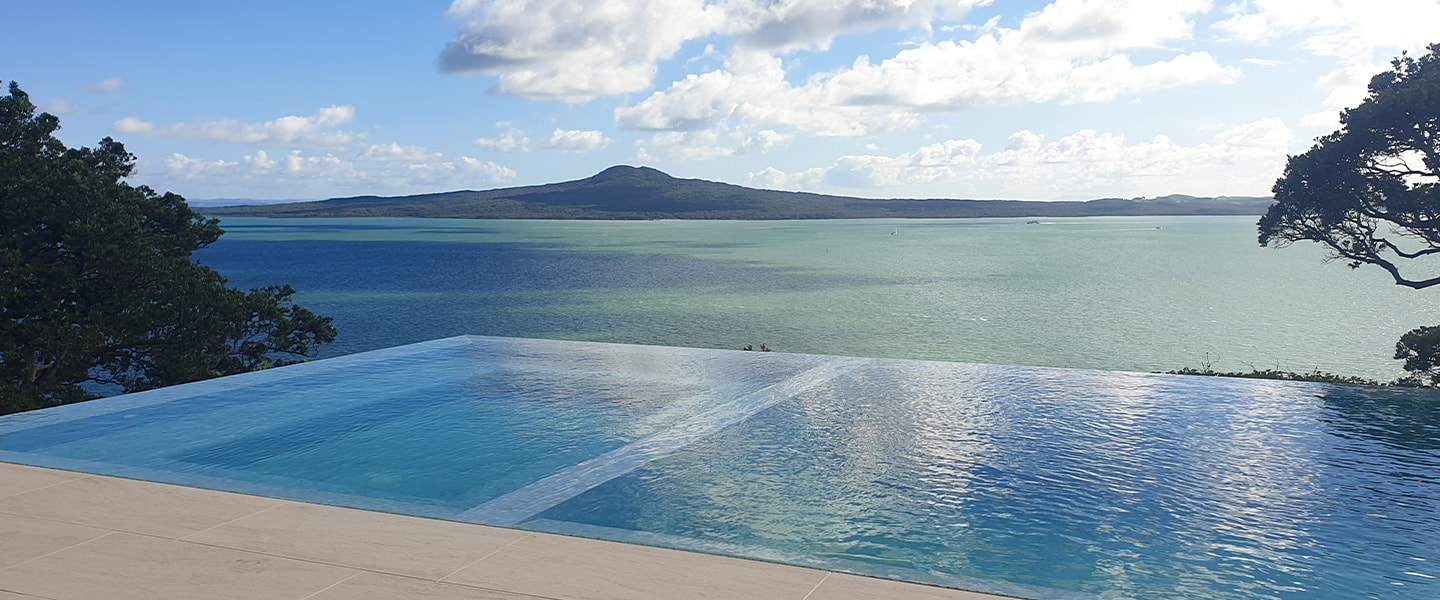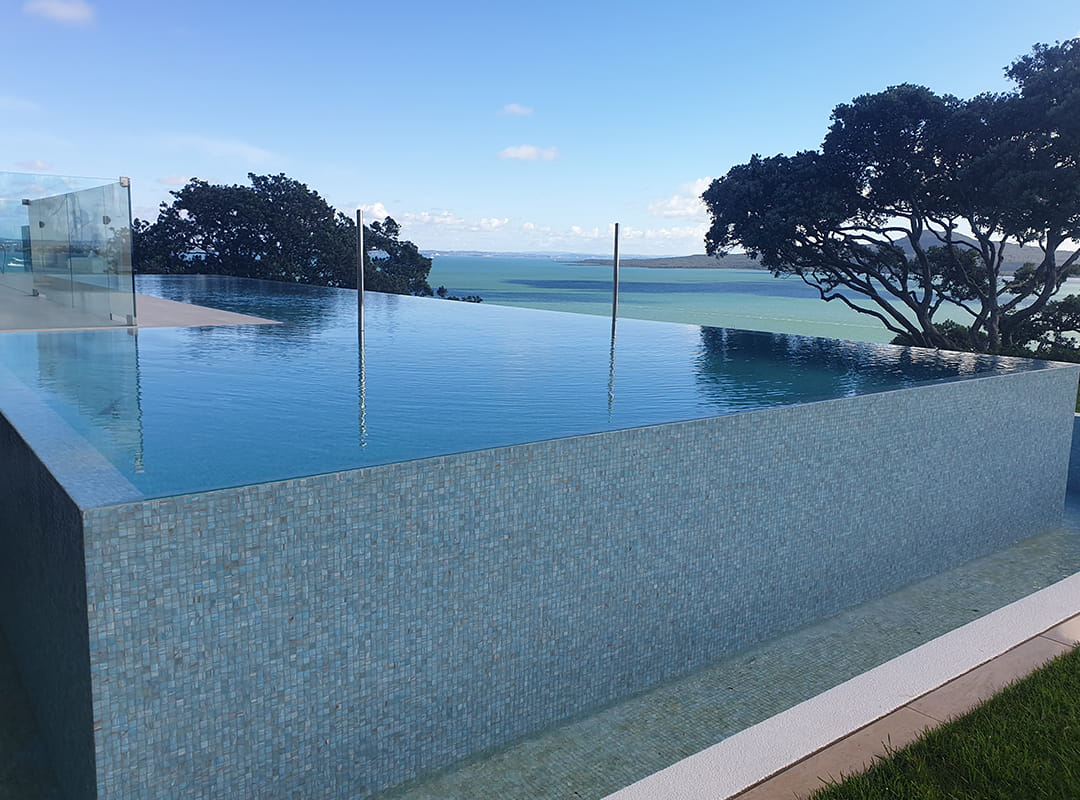 DISCOVER INFINITY POOLS WE HAVE BUILT
We have built infinity pools across Auckland, meeting several unique requirements. Check out our past projects to see how an infinity pool can transform your home:
WHY CHOOSE WATCHMAN POOLS?
WE DESIGN POOLS TO MATCH YOUR LANDSCAPE
We design your pool with the surrounding landscape in mind. With our specialist contacts, we can also construct the perfect surrounding area to complement your pool, including fences, landscaping, and decks.
WE OFFER DIFFERENT MATERIALS TO GET THE FEEL YOU WANT 
A pool is a big investment, so the result must be something you'll love. We work with a wide range of materials, making it easy to find the perfect look and feel for your pool.
WE COLLABORATE WITH YOU ON THE DESIGN
Whether you want an architectural wonder or a specially sized swimming pool, Watchman can customise your dream pool. Our team know the ins and outs of building concrete infinity pools and will collaborate with you to create your dream pool design.
we can help make your dream pool a reality
FREQUENTLY ASKED QUESTIONS
Here are some of the most common questions we get asked. If you have any specific questions please get in touch!
How do infinity pools work in terms of water circulation and the vanishing edge?
The magic of infinity pool comes down to their genius design. Infinity pools, also called vanishing edge pools, create a breathtaking visual effect by making one or more edges of the pool blend with the surrounding landscape. These pools are constructed with a catch basin below the vanishing edge to collect water that flows over it, recirculating it back into the main pool.
The water circulation system, including pumps and filters, ensures that the water level remains slightly higher than the vanishing edge, causing a continuous overflow. The illusion created by this design makes it appear as though the water disappears into the horizon or another scenic view, enhancing the pool's aesthetic appeal.
Are infinity pools suitable for all types of properties and landscapes?
Infinity pools can enhance the beauty of a property, but their suitability varies with the landscape and circumstances. Infinity pools create a striking visual effect for properties with scenic views, such as those by the coast or on a slope. However, they might not be a practical choice for flat terrains. The cost of construction and maintenance can be higher, and you must consider the relevant regulations.
Assess your budget, maintenance capabilities, and aesthetic goals, and speak to our team to determine whether an infinity pool is the right fit for your property and landscape.
What are the key benefits of having an infinity pool?
Aesthetic Appeal: Infinity pools have a captivating aesthetic appeal. The illusion of the endless flowing water on the horizon reflects the surrounding landscape and creates a visually stunning addition to your home. Infinity pools add a touch of luxury and beauty to your property that will quickly become a focal point.
Increased Home Value: With this beautiful addition to your home, you can help increase its overall value, plus have a desirable feature that may just win over a potential buyer.
Unique Swimming Experience: Enjoy swimming or lounging in the pool while the sounds of cascading water soothe you. Infinity pools offer a tranquil swimming experience for the ultimate relaxation.
Customisable: At Watchman Pools, we can customise your infinity pool with different features. When creating your custom concrete infinity pool, we consider the surrounding areas, ensuring your pool fits perfectly into your home's landscape.
What customisation options are available for infinity pools?
Custom pools are our speciality. We can create an infinity pool designed specifically for your property and landscape. To make it truly unique, we can add water features, customise your infinity edge, and bring your pool visions to life. Come to us with your ideas, and we'll help make them a reality.
How long does it take to build an infinity pool?
As with any custom pool, the design and installation timeframe will depend on several factors unique to your requirements and desires. Compared to other materials, concrete pools take some time to create, but they're a solution that stands the test of time.
Talk to us about your infinity pool, and we can provide an approximate timeframe.
What ongoing maintenance do infinity pools require?
An infinity pool requires the same upkeep as any other pool would: regular cleaning and equipment maintenance. Here are the basic steps to keeping your pool in top shape:
Regular cleaning with a skimmer and vacuum to manage dirt and debris.
Test and maintain the water chemistry and quality.
Inspect the filters and pumps to ensure they're working as intended.
Clean the infinity catch basin to prevent buildup and keep the infinity illusion looking its best. Ensure the catch basin's drain is clear and water flows properly.
Can I use an infinity pool for exercise and recreation?
While most pools offer a suitable place for exercise and recreation, infinity pools are typically better suited for relaxation and leisure as you take in the beautiful surroundings. The design and features of infinity pools can be impractical for exercise. If the main purpose of your pool is exercise and recreation, consider a standard pool. Talk to our team about how you wish to use your pool, and we'll provide expert advice on the ideal option.
How do I get started building an infinity pool?
If you want to add an infinity pool to your property, the first step is to talk to the professionals. Watchman Pools has been in the industry for more than 30 years. Our experienced team will work with you to create a custom concrete infinity pool for your home that you and your family will enjoy for years. Take the first step. Contact us today, and we will walk you through the entire process.